Veg Biriyani in pressure cooker – an easy and quick one pot recipe. I wish all days are lazy days. And it's completely ok to think so. I don't have to wear the super-women costume and run all around my house.  Don't think lazy means my early morning starts by 11, have some coffe and bread, sit and watch tv, again have something from the refrigerator, go to sleep……..  No,  it's not like that and it's not even possible when you run a family. What I meant by lazy is easy cooking and get some time to sit, relax and enjoy doing what I want. The pressure cooker veg biriyani comes to the rescue those days.
Pressure cooker biriyani means less work, less preparations, less cooking time, less dish washing and not much side dishes. My family is even satisfied with some raitha and pickle as side dishes. Now-a-days, I prepare and use the same curry for breakfast and biryani which helps me get some extra time with less effort. Usually we will have Paneer curry, Chicken stir-fry, Beef curry, tomato-onion roast as side dishes.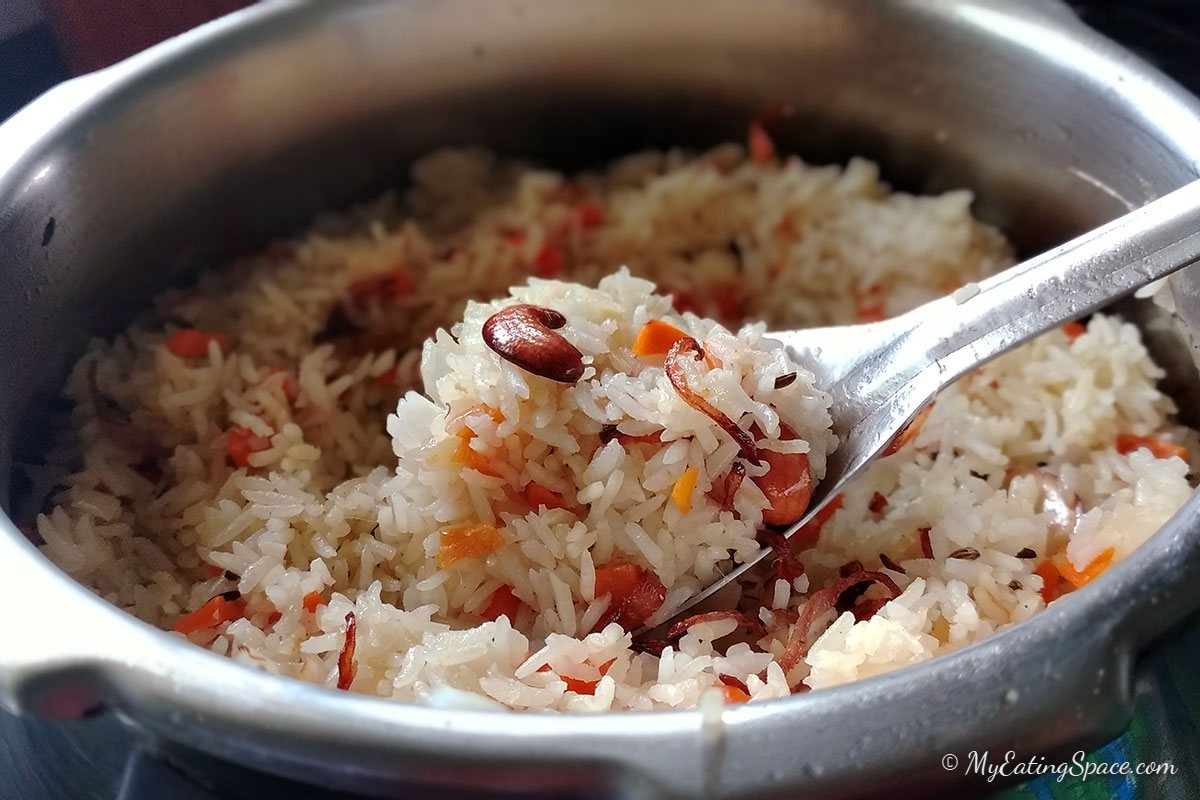 So let's go to the easy and instant one pot veg biryani recipe.
Pressure Cooker Veg Biriyani – One Pot Vegetable Biryani Recipe
Veg Biriyani in Pressure Cooker
A quick and easy one pot veg biriyani in pressure cooker. This vegetable biryani makes cooking life easy during busy days as they are great for lunch-box.
Course:
Brunch, Main Course
Ingredients
2

cups

of Jeera Rice

3

cups

of Water

2

Carrots,

peeled

10

Green Beans

2

Onions,

peeled

1

tbsp

ginger - garlic paste

3

tbsp

Ghee or Sunflower oil

2

tsp

Fennel seed

5-6

cloves

1

inch

long cinnamon stick

2

cardamom,

Crushed

1

tbsp

of Cashew and Raisins each

Salt to taste
Instructions
Wash the rice in cold water 3 times. Drain and keep aside.

Slice one onion thin and lengthwise. Cut the other onion, carrots and beans into small and thin pieces. Keep aside.

Keep the pressure cooker on low flame. Add oil or ghee. When hot, fry the cashews and raisins to a brown shade. Careful not to burn them. Remove them into a bowl.

Now add the thin sliced onion to the hot oil. Add a little salt and stir well. Fry the onion till a light golden flame. Remove them to the bowl of dry fruits. This mix is for the garnish.

Now add the remaining ghee or oil into the cooker. Add the fennel seed, cinnamon and cloves to the hot oil. Let it splutter for some seconds.

Now add the ginger-garlic paste and stir for 10 seconds. Stir in the diced onion, carrots, beans and a pinch of salt. Saute for 1 minute.

Now add the rice and again stir fry for 1 minute. Add water, crushed cardamom and salt to taste. Mix will.

Close the cooker and put the vent weight. Cook for 4-5 minutes (not more than that). Keep a timer for exact time.

After 4 (or 5 minutes) switch off the heat. Let it rest until the pressure inside settles (may be 10 ). After 10 minutes, manually release the pressure.

Now open the cooker. Give it a mix gently. D not overdo the mixing. Now add the cashew, raisin and fried onion and again give a gentle mix. Let it sit for a minute.

Your pressure cooked veg biriyani is ready. Enjoy hot with your favorite dish.
Recipe Notes
Now-a-days I usually use jeera rice to make biriyani and long basmathi rice to make fried rice and pulav. Jeera rice is also known as jirakashala rice, seeraga samba etc.
To cook the rice, instead of water you can also use the whey liquid (left over liquid paneer is made). Whey gives a unique flavor to the biryani.
You can add veggies like bell pepper (capsicum), cauliflower, tomato and also garam masala powder to the biriyani.
That's it. Your meal is ready. This also makes a great lunch box recipe in less time which will be a great help in busy and lazy days. There are other biriyani recipes you should try. Don't forget to check it out and also waiting for the feedbacks.
Happy Cooking

Other Rice Recipes​