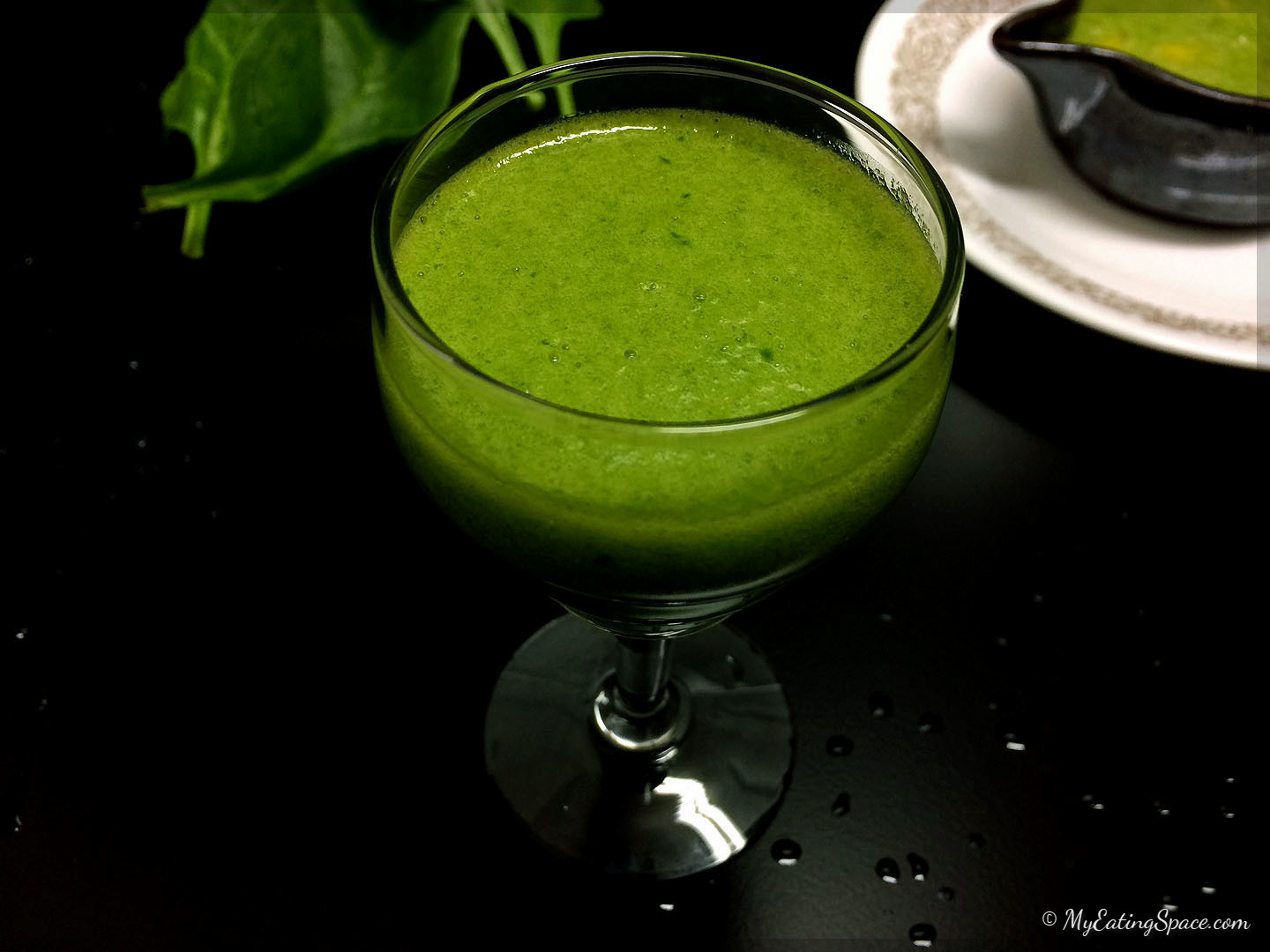 Christmas season is here. Today we are making a wonderful healthy smoothie- Unripe green mango spinach Smoothie for you to serve during the Christmas season. Not only the ripe yellow mangoes, the green unripe mangoes will also make great delicious drinks. If you can't believe, try this smoothie recipe.
The ripe yellow mangoes are considered great to make smoothies, shakes and juices almost all around the world. But very few of the international cuisines include the raw unripe green mangoes in their food, especially in drinks. May be because they are sour and a little nutty. If you are a little skeptical about it's taste, try this unripe green mango spinach smoothie. You will be amazed by the refreshing taste of the smoothie.
The unripe mango flesh must be white in color. The seeds of the green mangoes are very easy to remove as they are soft and can be easily cut with a knife. I know it is not a widely available produce in many parts of the world. But most of the Indian grocery stores will have them. In case if you can't find them, use the mangoes that are just starting to ripen.
Talking about spinach it is an easily available leaf in almost any place. I usually find it difficult to eat it raw in salads. So the best practice I do to include raw spinach in my diet is adding it to smoothies with other fruits and veggies. Yes, I do experiments with unique combos like this raw and hydrating green mango spinach smoothie.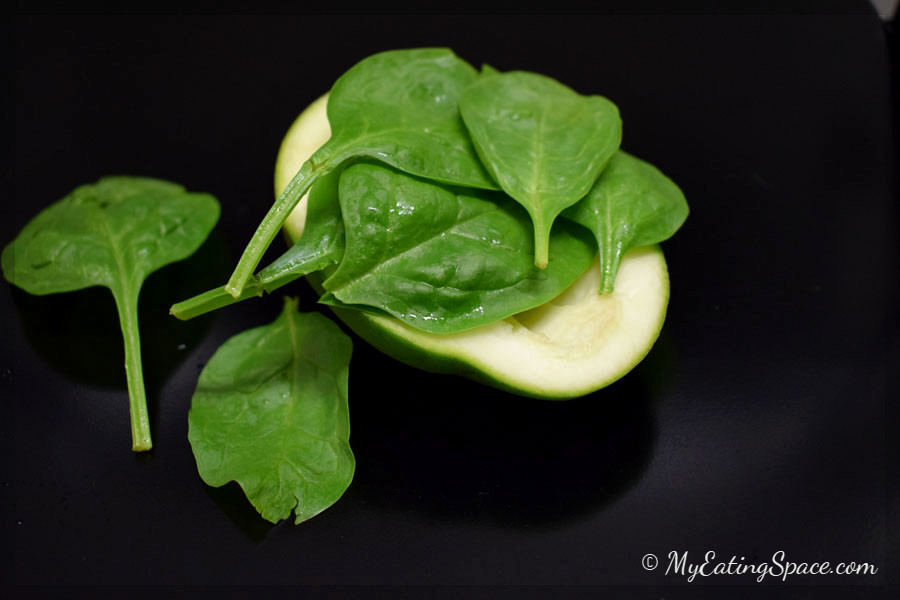 If you are still in doubt about the green mango spinach smoothie, let me tell you some of it's health benefits as seen in the cyber world (since I'm not certified Nutritionist or Dietician). Green unripe mangoes are rich in Vitamin C, iron and magnesium. They are good for digestion and gastro-intestinal problems. Since it has lots of vitamin C, they are said to be good for many blood disorders and are believed to protect our body from dehydration. Spinach is high in chlorophyll and and many carotenoids. They have anti-inflammatory and anti-cancerous property due to these phytonutrients. The vitamin K in spinach helps in bone health.
There could be lot of benefits….Its better I just stop here and jump to the recipe for the hydrating and healthy unripe green mango spinach smoothie.
Unripe Green Mango Spinach Smoothie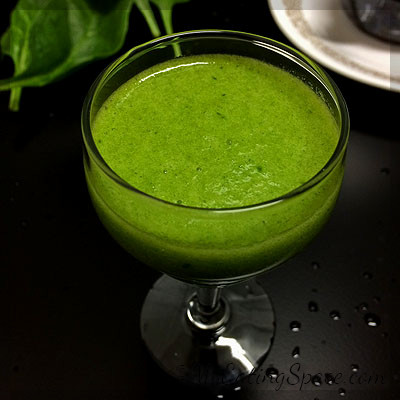 Unripe Green Mango Spinach Smoothie
A hydrating smoothie with a balanced sweet and sour flavor to keep you healthy all day long. The drink is purely vegan and gluten-free
Ingredients
½

Green unripe Mango

2

cups

of Spinach

tightly packed

2

cups

of Water

⅛

cup

Sugar

⅛

tsp

Salt
Instructions
Peel the green mango and remove the seed.

Cut them into small chunks that makes up to 1 cup.

Blend the mangoes and spinach in a blender.

Then add sugar and salt. Blend again to mix well.

Pour the smoothie into a glass and serve.

You can chill and serve if needed or just add ice cubes.
Recipe Notes
The amount of sugar needed depends on how sour the mangoes are. If the mangoes just started to ripen, you may need less sugar. Again, the sweetness is up to you.
Raw food is always healthy. But for some people like me, it is very difficult to take food raw. And there will be an answer for every question asked, even though difficult sometimes. If not, we should make an answer. So the answer to the question, how to add raw food to my family diet is Make Smoothies. My family is pleased with the green mango spinach smoothie. What about your's ?. Hope you would let me know.
If you like to try more smoothie recipes, here are some of our family favorites;
Happy Cooking